Would you like to know more about the complaints we see and the work we do?
Telecommunications Dispute Resolution (TDR) is here to support Kiwis to resolve complaints and disputes with their telecommunication providers. The 2023 TDR Annual Report provides an overview of our service and the complaints we received from 1 July 2022 to 30 June 2023. Here are some highlights from the year.
Complaints rise 64%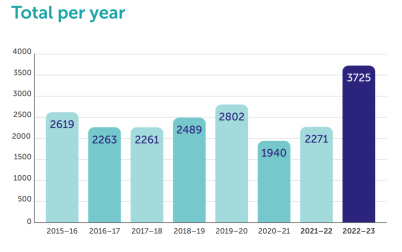 In the last year, 3725 people got in touch with TDR for help with their home, mobile phone, and internet issues. Increasing by 64 percent from 2022, this is the highest ever number of consumers accessing our service.
We have been working hard to improve awareness and it is great to see this reflected in our interactions. We want all New Zealanders to know that it is OK to complain and that we are here if you need help.
Top themes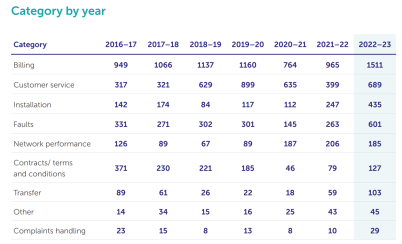 Billing is the top complaint theme that TDR sees annually. This year 1511 billing complaints were received by TDR, representing 40.6% of all complaints raised. This included 867 cases about disputed charges.
Beyond billing, TDR can help with a range of issues including if you have received unacceptable customer service, encounter installation delays, or experience faults. 18.5% of consumers raised customer service issues this year, 16.1% experienced faults and 11.7% raised an installation complaint.
How we help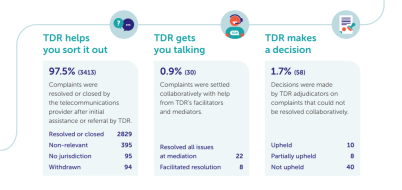 One of the hallmarks of TDR is that we aim to resolve issues early. Most complaints are quickly resolved allowing you to get back to normal, often within a few days. 97.5% or 3413 complaints were resolved or closed during our initial, informal process, when TDR refers the complaint to the phone or internet provider. The remaining 88 unresolved complaints required formal dispute resolution assistance, such as facilitation, or mediation or for TDR to decide on the complaint.
Read more
You can read the full report here:
TDR Annual Report 2022 – 2023 (PDF)
Previous reports
You can find copies of our previous Biannual Reports and Annual Reports on our website - www.tdr.org.nz/resources/publications
As part of our preparations for this report, we have revisited the 2021 – 2022 report and corrected a calculation error affecting pages 8 and 9. These pages have been updated to reflect the latest available information. The updated version of the report is available here.